EuroMillions Is The Perfect Game To Play In A Syndicate

EuroMillions has to be one of the very best games to play in a syndicate.
Why? Two reasons.
Because most weeks the jackpot is just so big that even after sharing winnings between the syndicate group, we all still get to walk away as millionaires!
The odds are pretty darn tough. So playing in a EuroMillions syndicate is a sure-fire guaranteed way to get a much better chance of actually winning the jackpot.
Join our syndicate now and play from the very next draw this Friday
What's So Great About a Syndicate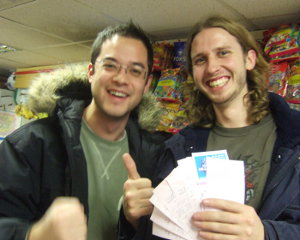 They work! As many as 25% of all jackpots are claimed by syndicate groups, just like ours. That's huge.
And they work for one very simple reason. There's no special magic. We just buy a lot more tickets than most people would be willing to risk buying on their own.
Because buying more tickets is the only real way to improve your chances of winning big.
But Buying More Tickets
Costs a Lot More Money..?
Yes it does. Which is yet another reason why playing with us makes a lot of sense.
Because we share the cost of the tickets equally, it means everyone spends pretty much the same (and in many cases even less) than they did playing the lottery on their own.
So you don't have to spend any more on tickets than you normally would, yet you still get a much better chance of becoming a millionaire! Just by switching to playing with us instead.
So How Does It Work?
Well, we play in every Tuesday and Friday EuroMillions draw - and we play 55 tickets in every single draw. And we each put in just £3.75 per draw.
Why 55 tickets? Because that means we can cover every possible different combination of the Lucky Star numbers.
So with those covered, we only have to match the 5 main balls to hit the jackpot. Pretty neat!
All of our winnings are shared equally and fairly between the group, even the smallest wins.
BONUS: The Millionaire Raffle
Players from outside the UK won't know about this extra game. But in the UK, EuroMillions has an extra add-on game called 'Millionaire Raffle' - which pays out a guaranteed £1 Million every single draw to one lucky ticket holder.
All of our tickets are bought in the UK. So we get 55 entries into the Raffle every single draw!
The best thing is, only UK tickets are included in the draw. So the odds of picking up this prize are vastly better than winning the main jackpot. It won't make us all millionaires but it will be some nice extra pocket money that's for sure :-)
How Do I Join?
The EuroMillions syndicates are open to players from most parts of the world. So you can join online, and be playing in the very next draw this Friday. Just click the big orange button below to join now.

We look forward to welcoming you.